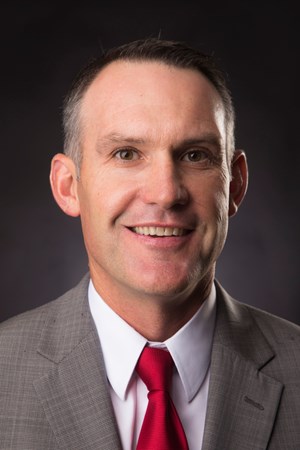 Andy Sawyers is in his second year as Southeast Missouri's head baseball coach.
Sawyers was appointed the sixth head coach in Southeast baseball history on July 29, 2016.
In his first season as an NCAA Division I head coach, Sawyers led the Redhawks to an overall record of 29-26 and 16-14 mark in Ohio Valley Conference play. Southeast finished fifth in the conference standings and picked up a win at the 2017 OVC Tournament.
Sawyers coached six All-OVC selections in 2017, including first-team honoree Dan Holst, second-team picks Brian Lees, Chris Osborne, Justin Murphy and Clay Chandler, and All-Freshman Team member Danny Wright. Wright also claimed Freshman All-America honors during his stellar rookie campaign.
Sawyers has 19 years of collegiate coaching experience. He spent two seasons as the Associate Head Coach/Offensive Coordinator at Kansas State out of the Big 12 Conference. There, Sawyers oversaw the hitters and catchers as well as helping coordinate recruiting at K-State.
In his career, Sawyers has been to two College World Series, three NCAA Super Regionals, and 10 Regional Tournaments. He has mentored 39 Major League Baseball draft picks including two first-round picks and eight top-10 round picks.
The Wildcats ranked fourth in the Big 12 offensively with a .284 team batting average in 2016. The Wildcat offense registered a .400 slugging percentage, .372 on base clip, scored 335 runs, scattered 550 hits, knocked 100 doubles, 17 triples, and 30 home runs while driving in 300 runs.
Sawyers mentored freshman Josh Rolette to earning Louisville Slugger Freshman All-American honors in 2016. He also helped guide Jake Scudder to the title of Big 12 Newcomer of the Year. In all, the Wildcats posted three student-athletes to All-Big 12 Teams last season.
The 2015 and 2016 seasons were Sawyers' second stint at Kansas State, serving as an assistant coach for the Wildcats in 2009 and 2010. K-State went 80-30-1 over those two seasons and made consecutive NCAA Regional appearances, the first two in school history.
The 2009 campaign was a year of power for the Wildcats under Sawyers. The team hit 22 triples and 58 home runs, the most in both categories since 1997. The offense shined when it came to stolen bases as the 149 steals were the second-most in the nation and two shy of breaking the Big 12 record. Overall, the team finished among the Big 12 leaders in on-base percentage (2nd, .399), runs scored (2nd, 458), hits (2nd, 675), RBI (2nd, 420), doubles (3rd, 123), and fewest strikeouts (4th, 393).
Six Wildcats earned All-Big 12 honors in 2009, including outfielder Nick Martini, who also garnered Louisville Slugger Freshman All American honors, and Justin Bloxom and Carter Jurica, who finished fourth and eighth, respectively, in the Big 12 in batting average.
The 2010 squad matched the success of 2009 by also reaching the NCAA postseason, but the offense topped the previous season's totals in batting average (.323 in 2010; .317 in 2009), runs per game (7.6 vs. 7.4) and OBP (.426 vs. .399).
Prior to his stop at Kansas State, Sawyers spent four seasons as the Associate Head Coach at Texas A&M (2011-14). Those four seasons at Texas A&M represented the conclusion of Sawyers' five total campaigns with the Aggies after he spent 2008 as a volunteer assistant coach.
In each of those five seasons, Sawyers helped Texas A&M reach an NCAA Regional while also winning two Big 12 championships. In addition, he coached standouts Tyler Naquin - 2011 Big 12 Player of the Year, All-American and a first round pick by the Cleveland Indians in 2012 - and Krey Bratson, a 2011 Freshman All-American.
Before his appointment at Texas A&M in 2008, Sawyers worked with current Aggie head coach Rob Childress as an assistant coach and the recruiting coordinator at Nebraska from 2003-07. While in Lincoln, he helped the Huskers earn four trips to the NCAA Tournament, including an appearance at the 2005 College World Series. Sawyers, who lettered two years at Nebraska, worked with 12 Huskers who were selected in the MLB Draft, including Alex Gordon, a two-time Big 12 Player of the Year. In 2005, Gordon won five national player of the year awards before being taken as the second overall pick by the Kansas City Royals.
Sawyers took on all hitting coach responsibilities at Nebraska beginning with the 2006 season, when the team batted .310 - its best mark in four years - and ranked in the top three of the Big 12 in home runs, stolen bases, OBP and slugging.
Also during his time in Lincoln, Sawyers served as the academic coordinator and worked with the catchers. Additionally, Sawyers helped the Huskers recruit their then-highest-rated class in school history, as the 2004 recruiting class was ranked 16th nationally by Collegiate Baseball.
After working as the volunteer assistant at Nebraska in 2000, Sawyers spent the 2001 and 2002 seasons as the head coach at Hutchinson Community College, compiling an 87-30 record and two postseason berths. In 2001, the Dragons went 40-16 and won the Jayhawk West Sub-Regional, while the 2002 squad set a school record with 47 wins and was ranked as high as seventh by the NJCAA.
Sawyers' coaching career began at Northwestern (La.) State in 1999 as a volunteer assistant coach, helping the Demons finish second in the Southland Conference.
Sawyers first played collegiately at Point Loma (Calif.) Nazarene College in 1994. Following a year off, he played at Mendocino (Calif.) Junior College in 1996 before finishing up his playing career at Nebraska.
A native of Willits, California, Sawyers received his bachelor (1998) and master's (2000) degrees from Nebraska. He is married to the former Dena Lindeblad and the couple have one child, Andrew James (A.J.).