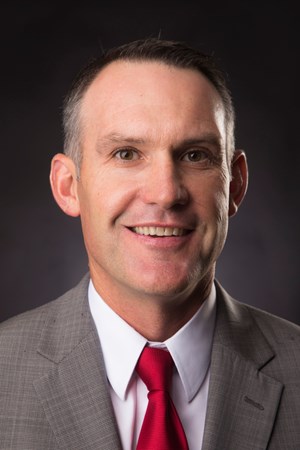 Andy Sawyers enters his fifth year as Southeast Missouri's head baseball coach.
SEMO had an overall record of 9-8 and a 2-1 mark in Ohio Valley Conference play when its 2020 season was abrubtly cut short due to a global COVID-19 pandemic. The Redhawks heated up to win seven of nine contests prior to the end of competition.
The Redhawks led the OVC in batting average (.314), hits (188), triples (9), plate appearances (707), at-bats (598), hit by pitch (26), stolen bases (36), fewest walks allowed (54) and fielding percentage (.976), and rated second in slugging percentage (.503), on-base percentage (.404), runs (129), RBI (121) and home runs (21) at the time their 2020 campaign came to a close. SEMO also ranked among the top 10 teams in the nation in hits (6th) and triples (8th).
Twenty returnees are back for Sawyers to mentor again this spring as the Redhawks return over 60 percent of last year's roster.
None of those players lost any eligibility after the COVID-19 pandemic influenced the NCAA Division I Council's decision to allow schools to provide spring-sport student-athletes an additional season of competition and an extension on their period of eligibility.
Before they took the field last spring, the Redhawks ushered in a state-of-the-art hitting facility adjacent to Capaha Field. The 4,000-square foot facility can fit up to four batting cages and is equipped with portable pitching mounds. It also had HitTrax Rapsodo technology which is used to enhance overall player performance through real-tiem stats and performance metrics.
In Sawyers' last full season of competition, SEMO went 23-32 during an injury-riddled 2019 campaign. The Redhawks played without five of their position starters for much of the season.
Sawyers was hired as the sixth head coach in program history on July 29, 2016.
In his first year as an NCAA Division I head coach in 2017, Sawyers led the Redhawks to a winning season (29-26 overall, 16-14 OVC). He also picked up his first career OVC Tournament win along the way.
In all, Sawyers has two decades worth of collegiate coaching experience.
Prior to arriving in Cape Girardeau, he worked two seasons as the Associate Head Coach/Offensive Coordinator at Big 12 Conference member Kansas State. There, Sawyers oversaw the hitters and catchers, while helping coordinate recruiting efforts.
Sawyers has coached in two College World Series, two NCAA Super Regionals and eight NCAA Tournaments during his coaching tenure. He has mentored 39 Major League Baseball draft picks, including two first-round selections and eight top-10 round picks.
Sawyers' coaching career began at Northwestern (La.) State in 1999 as a volunteer assistant coach, helping the Demons finish second in the Southland Conference.
He first played collegiately at Point Loma (Calif.) Nazarene College in 1994. Following a year off, he played at Mendocino (Calif.) Junior College in 1996 before finishing up his playing career at Nebraska.
A native of Willits, California, Sawyers received his bachelor (1998) and master's (2000) degrees from Nebraska. He is married to the former Dena Lindeblad and the couple have two sons, Andrew James (A.J.) and Alex.